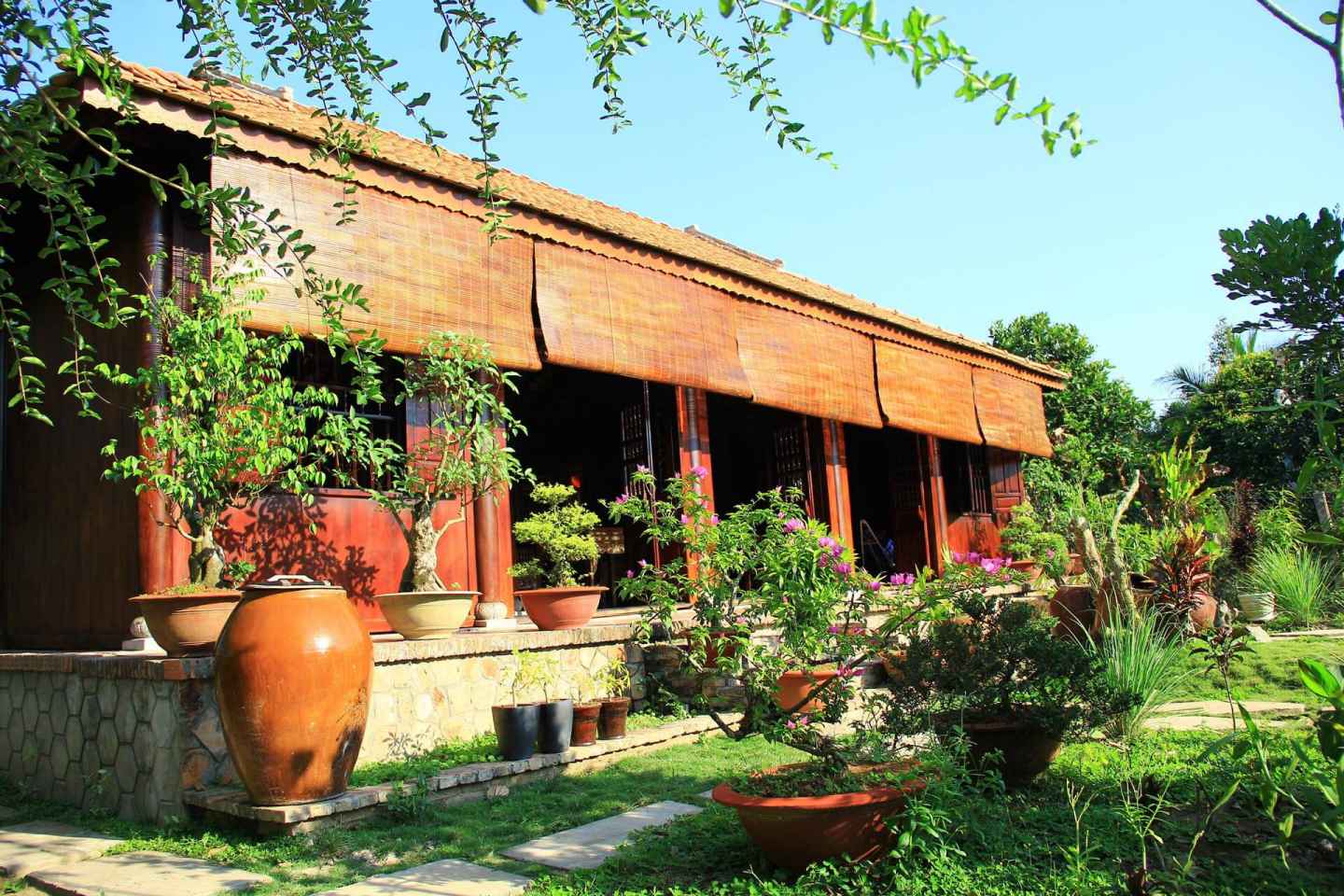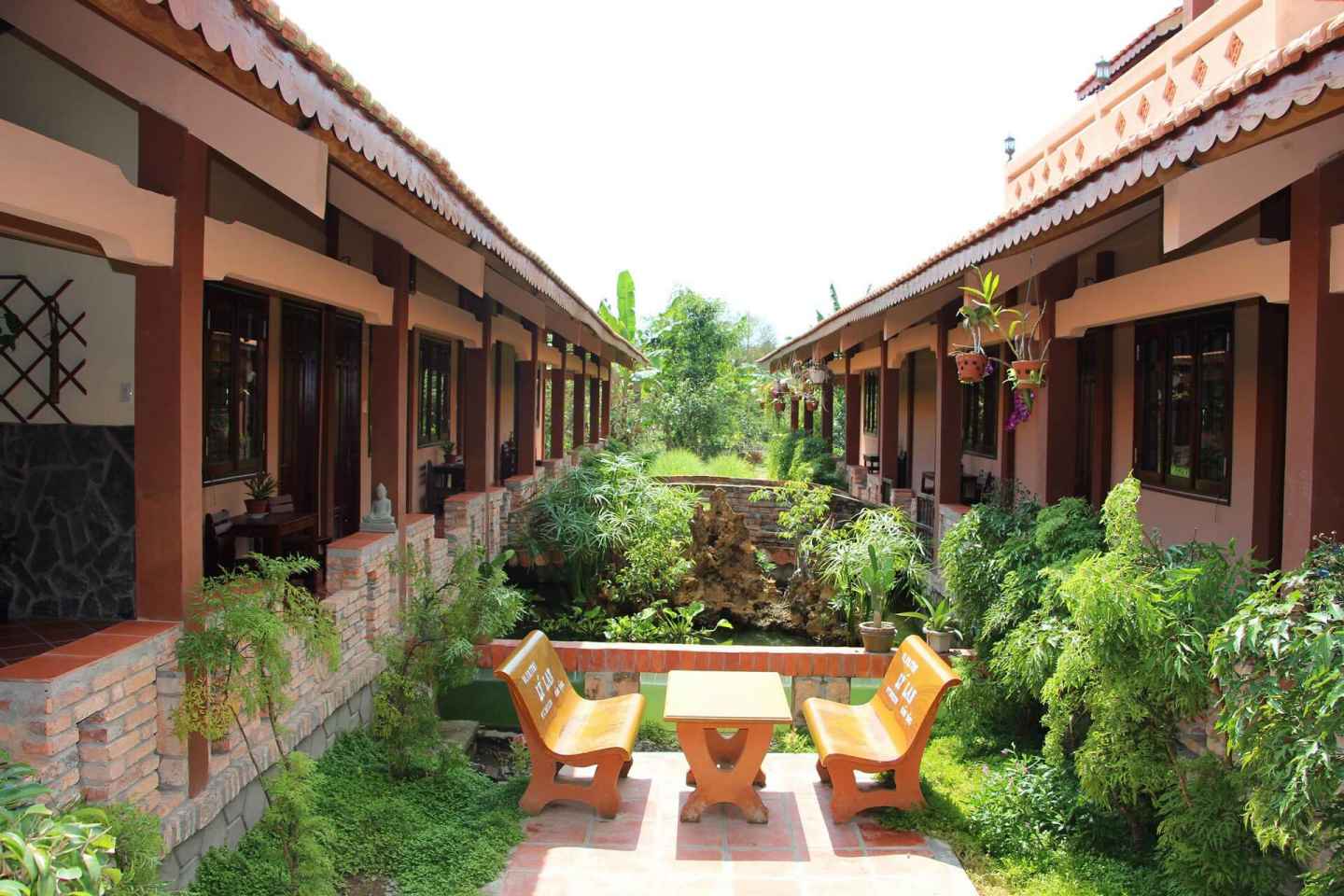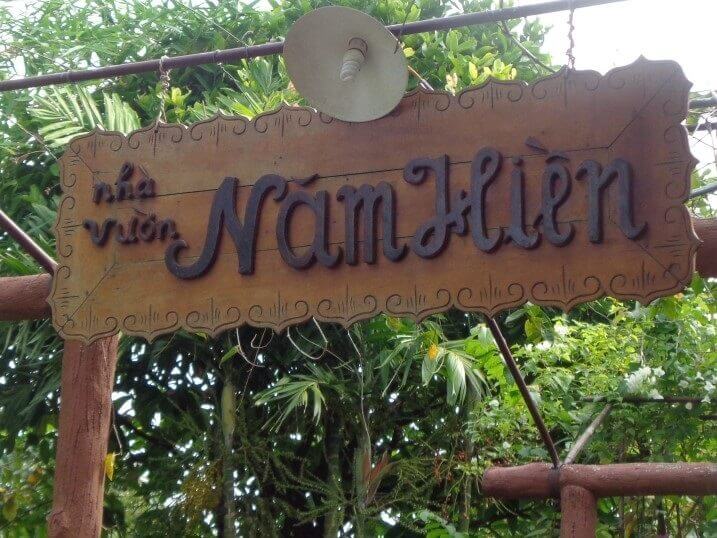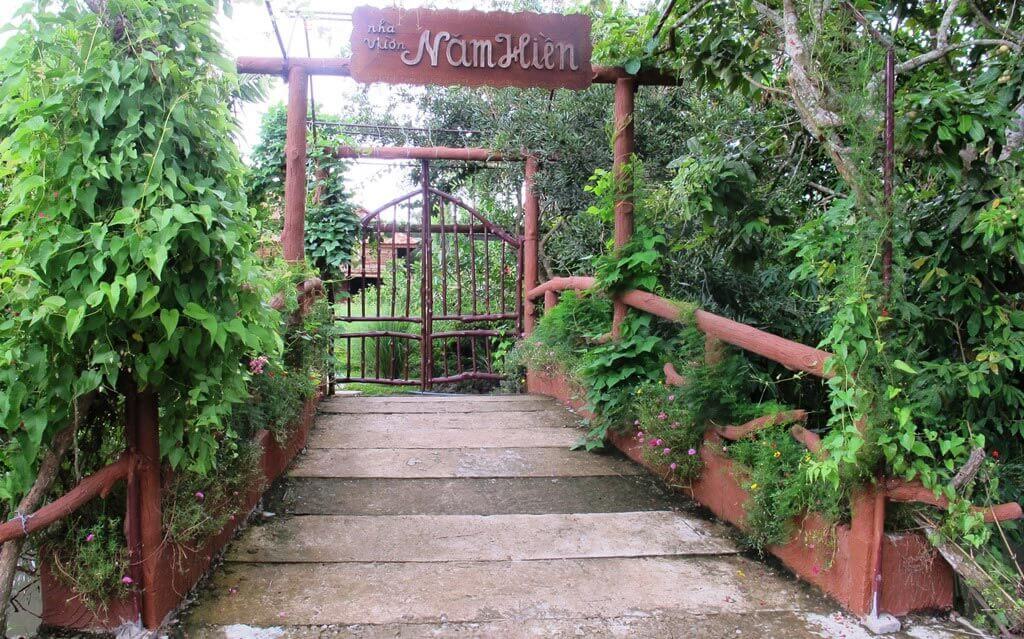 "Peaceful vibes and comfortable guesthouse"
You will have the chance to meet a family of three generations living under the roof of this typical Mekong Delta house.
The Năm Hiền cottage is located in the hearth of the luxuriant Chợ Lách region in the Bến Tre province, known for its fruit gardens and bonsai trees. Chợ Lách village is on the national road 57 that goes through lovely regions such as Rạch Miễu, Cái Mơn, Vĩnh Long…
This charming cottage is divided in two sides, each being different from one another but very representative of the Mekong architectural style. On the first side, there is a small wooden house with red tiles in the middle of an orange garden. This house has two rooms, western style toilets and a bathroom with hot water. On top of that there is also a living room with all sides open to the outside where Mr. Năm keeps his collection of gardening and rice picking tools. Perfect for a family of 4.
Opposite of this house, in a garden filled with pomelo and longan trees you will find, after passing a small bucolic bridge, a big traditional wooden house. This prestigious looking house is decorated in the traditional style of Southern Vietnam with carvings and ancient artefacts. Mr.Năm tries his best to revive the ancient traditions and values throughout his cottage. 24 columns in precious wood, wood carvings, ancient furniture, an altar for ancestors… all this will give you the feeling to travel back in time all the way to 18th century feudal Vietnam. Behind this house you will find a luxuriant garden with rooms as well.
This part of the cottage has private rooms, just as in a hotel.
At the end of the garden, after passing all room you will find a 4m wide and 14m long swimming pool in the middle of a flower garden, ideal to relax after a long day in the Delta.
On top of the housing, Mr. Năm Hiền's cottage provides a continental breakfast. For meals, Mrs. Nam Hien is cooking traditional dishes made from organic local products.
Bicycle tour in the village
The bucolic paths and friendly locals of the village calls for a stroll in the countryside, either by foot or by bike (provided by the cottage). During your tour you will be able to discover the fauna and flora of the Delta and will stop by a pagoda on the river banks. You will then continue to Chợ Lách's local market which is divided in two parts, the first for consumables (fruits, fish, meat, seafood…) and the second for textiles and miscellaneous items where you will be able to buy souvenirs.
Visit of Cái Mơn bonsaï village
To spice up your trip, you need to visit the Cái Mơn bonsai village located around 12km from the cottage. This village is an important provider of bonsai trees and tree nursery for the big cities of Southern Vietnam. There, you will meet a tree nurseryman who will help you to discover and understand his profession. The end of the lunar year is the best time to visit the village, just before all the trees and plant are delivered to other regions of the country to celebrate the new year.
Cooking class with your host family
During your stay, you will have the chance to take part in a cooking class led by your hosts. You will learn how to cook spring rolls and rice pancakes that will be served for dinner. Mrs. Năm Hiền is proud to be able to provide guests with traditional food that cannot be found in the touristy restaurants of bigger cities. All vegetables are locally grown, and everything is organic including the meat and the fish.